We recognize that all of our patients are unique and deserve to receive orthodontic care that reflects their individual needs. Our experienced and talented team is committed to working with you and your family to create a comfortable, stress-free, and rewarding orthodontic experience every time you visit our practice.
We are pleased to welcome you and your family, and we look forward to working with you.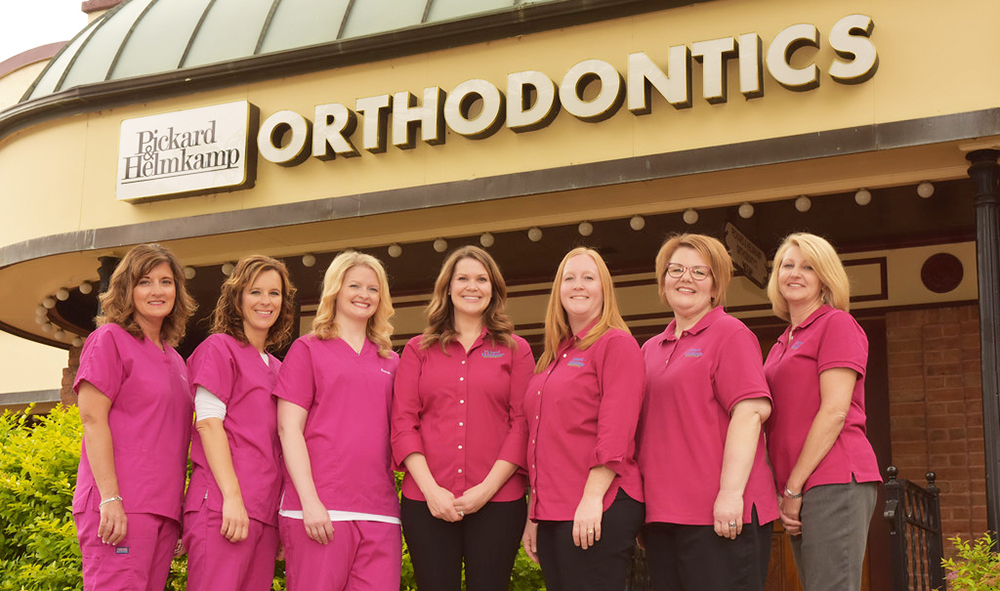 ---
Crystal
Dental Assistant
I graduated from Allied College with a dental assistant certificate in 2008. I worked in pediatric dentistry and general dentistry before starting at Helmkamp Orthodontics in 2014. Whether I'm assisting Dr. Helmkamp with placing brackets or bands, removing braces, or taking X-rays and impressions, I always try to stay one step ahead, knowing what the doctor needs before she needs it. Each day is different and exciting, and changes with each patient and procedure, which makes it a lot of fun!
I am married with four children and three cats. I love, love, love my kitties! When I'm not working for Dr. Helmkamp, I'm helping my husband run our lawn care company. We go on vacation as much as possible, traveling to the beach several times a year. My motto is "Work hard, play hard!"
Kathleen
Records Specialist/Orthodontic Assistant
On your first visit to our office, you will most likely spend some time with me while I take your X-rays, impressions, and photographs. I also work chairside, assisting Dr. Helmkamp with patient care. I've been a part of this team since 1999 and have loved meeting so many people throughout the years. Even though I have been at my job for 18 years, I feel like I'm still learning new things in the orthodontic field. The girls I work with are amazing and we all get along very well. I hope to be part of this team for many years to come.
I have been with my partner Pat for 18 years. I have one daughter Natalie and a grandson Eli. My grandson is involved in numerous sports so I spend a lot of time at games. I'm an active member in my church and my grandson's school. In my free time, I enjoy reading, tanning, working out, and spending time on our boat. When I go on vacations, you will most likely find me on a beach.
Kelley
Financial Coordinator
I came to Helmkamp Orthodontics with an eclectic business background, having experience in accounting, management, human resources, sales, and customer service. Here, I handle all aspects of your account, including investigating insurance benefits and filing, and following up on claims. If you have questions about your account, I'll probably have the answer! One of the best parts of my job is knowing that my team and I work together toward the same goal: happy patients with beautiful smiles!
I have been married for 34 years to my high school sweetheart we have two adult children. We love to travel! We have a motorhome that we use to travel throughout the US and look forward to the day when we can go for months at a time rather than weeks. We only have seven states remaining to check off our list. Besides traveling in our motorhome, we have traveled to Europe, Mexico, and the Caribbean several times. We are also avid College football fans and love to attend Mizzou games and try to travel to at least one road game every year.
Lezlie
Front Desk/ Receptionist
Dental assisting is a second career for me. I am also a graduate of Missouri State University where I received a Bachelor's degree in Social Work. Although social work was very rewarding, I decided it was time to make a change and couldn't be happier with my decision to get into the dental field! I graduated from the dental assisting program at St. Louis Community College in 2014 as a Certified Dental Assistant with Expanded Functions. I worked for a general dentist prior to coming to Helmkamp Orthodontics, and I'm so happy to have made the transition! I love getting to know our patients and their families, and seeing how parents react when they see their child for the first time after their braces have been removed.
I have been married for 16 years to my high school sweetheart and am the proud mom of two beautiful children. One of my favorite things to do is watch my kids participate in the many sports they play. My husband and I also help coach some of those teams. We recently welcomed a new member to the family—a Schnauzer! We are so excited to have this furry addition in our lives. In my free time, I enjoy listening to live music, baking, hosting and planning parties, and watching HGTV.
Patty
Patient Scheduler
I am an especially familiar presence at our Sunset Hills office, where I spent 23 years working for now-retired Dr. Oleskevich. In the transition, I exchanged my seat at chairside for a place at the front desk, where I have the opportunity to greet old friends and make new ones. Some patients I've worked on as teenagers are now back with their children; it's so cool to see how much they've changed!
I am single and have a dog named Chloe. She is a BIG part of my life. I also have several nieces and nephews and great nieces and nephews with whom I love spending time. I am the youngest of seven children, so my family is very important to me. I am active in my church and love to spend time with my church family as well.
Sarah
Orthodontic Assistant
I have experience as both a dental assistant and an orthodontic assistant, and definitely prefer the latter, which I have been doing for seven years. While my job involves many tasks, my favorite thing is the debonding appointment while assisting with removal of a patient's braces. It is so rewarding to see the "unveiling" of each new smile, especially when the patient has heeded our words about the importance of good oral hygiene.
I married my husband Andrew on September 25, 2010. We now have two beautiful daughters, Cora and Remi. They bring us great joy. As a family, we love spending time outside swimming, walking, fishing, and catching fireflies in the summer. I enjoy shopping and going on vacations.